Applications close Wednesday, March 30, 2022 at 11:59 p.m. ET.
The 2022 Citizen Diplomacy Action Fund (CDAF) for U.S. Alumni is a competition that awards grants of up to $10,000 to teams of U.S. government-sponsored exchange program alumni to carry out public service projects that make the most of the skills, knowledge, and networks gained through their exchange experiences. Participants work in teams of two or more to design and incubate projects related to one of the following five themes:
Strengthening Democratic Institutions
Protecting the environment,
Bolstering outreach to underserved communities,
Building community through arts, sports, language, and technology and/or,
Fostering alumni network development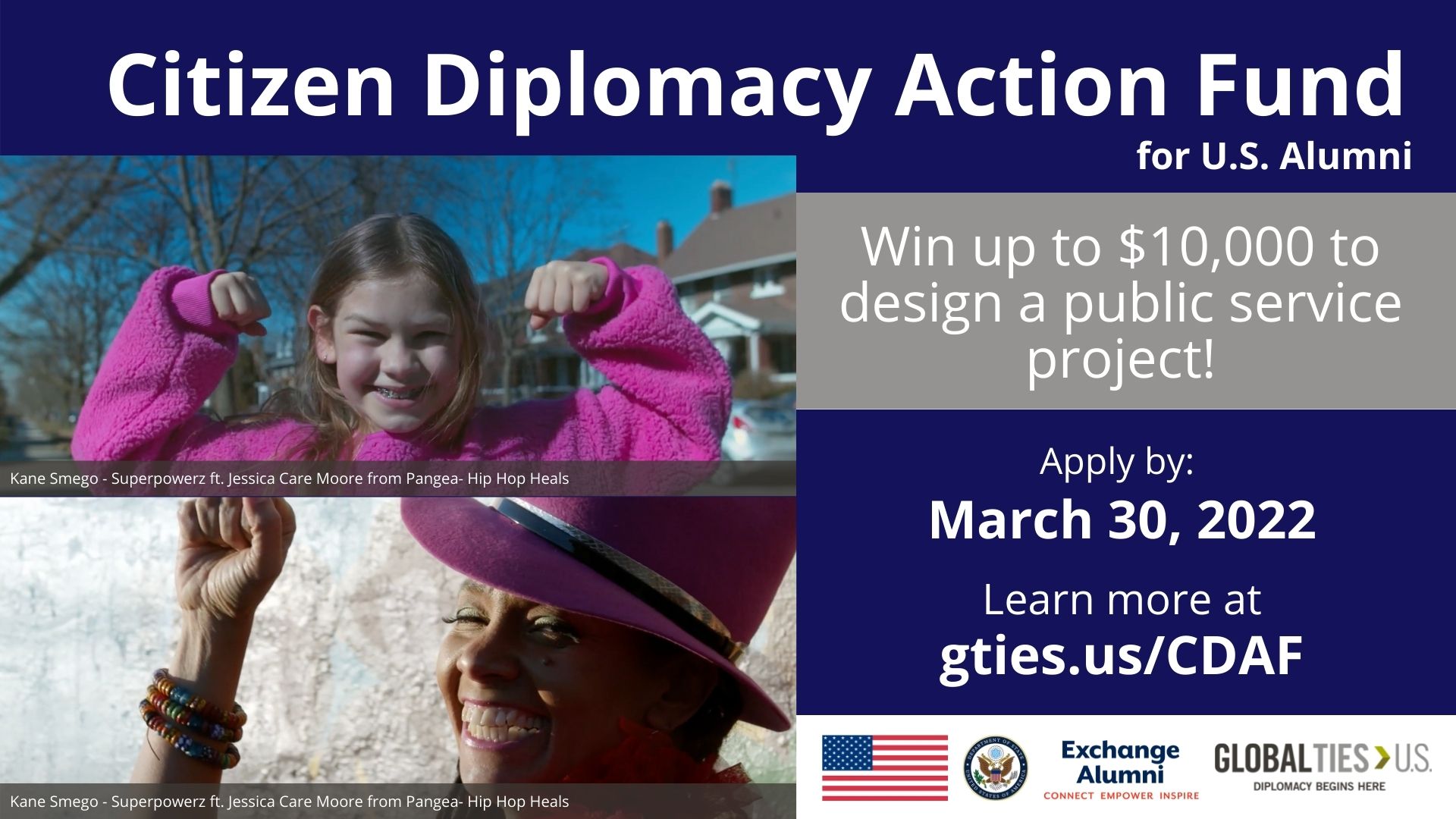 CDAF is a unique opportunity for alumni to use skills and knowledge learned during the exchange, connect with fellow alumni, and elevate their role as community leaders. Past participants have developed projects that promote media literacy education, build community resilience, foster alumni network development, and engage with issues such as climate change and sustainable development.
To qualify as an exchange alum for the purpose of CDAF, project team leads must have successfully completed a U.S. government-sponsored exchange program and be registered for an account on the International Exchange Alumni website at www.alumni.state.gov. The primary project lead must be a U.S. citizen, and the secondary lead can be a U.S. citizen or an international citizen. Projects may be carried out in the U.S, its territories, or overseas. If the project is proposed to take place overseas, at least one of the team leaders must have direct international exchange experience in that community.
Alumni? Contact Global Ties ABQ to stay tuned for more opportunities