Global One to One, our youth exchange program, has connected thousands of middle and high school students with their peers across the globe through handwritten pen pal letters over the past 15 years. This school year, the exchange includes 70 students between our hometown of Albuquerque, New Mexico and partner schools in India and Kenya.  
As we near the end of the 2021-2022 program year, we recently received the third and final round of letters from students at St. Mary's School in Rajkot, India written to their pen pals at Cottonwood Classical Preparatory School in Albuquerque, New Mexico. These final letters are always extra special after students have bonded during the school year, sharing their stories, culture, and hopes as well as concerns for the future with their new friends. 
Take a look for yourself at one of the many beautiful letters received from our students in India! This letter is written by an 8th grade student named Nupur at St. Mary's School in India to her pen pal Gigi at Cottonwood Classical Preparatory School in New Mexico. Nupur expresses her excitement after learning about the International Balloon Fiesta event held in Albuquerque each year during the previous letter exchange! She also shares her future hopes and dreams with Gigi, including her passion for homeless animals, gender equality, and the rights of girls and women in India and worldwide. Nupur wants to create a more peaceful world beyond national borders and boundaries. Her letter ends with a quote as she says, 'goodbye for now' to Gigi: 
"A friend is one that knows you as you are, understands where you have been, accepts what you have become, and still, gently allows you to grow."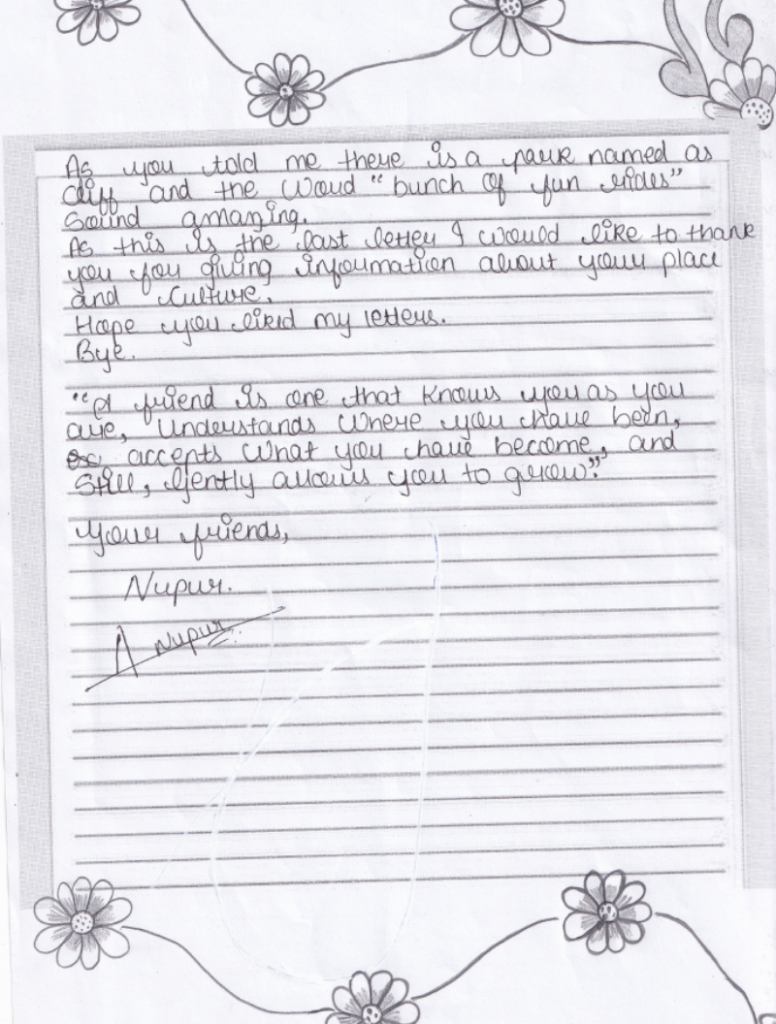 Are you a middle or high school teacher?  
Contact us to learn more about our powerful pen pal letter exchange program and how you may be able to participate.